Sunrooms are versatile additions to any home. They can be used for a variety of purposes, but perhaps the biggest advantage is they allow people to enjoy the beauty of the outdoors from the comfort of their own home.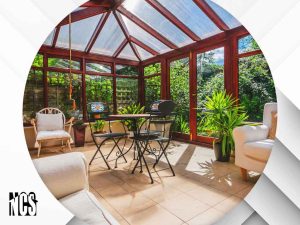 Like any home remodeling or addition project, sunrooms bring a host of benefits as well as a few noteworthy downsides. Before deciding to add a sunroom to your home, or converting an unused space into one, here are some pros and cons to consider:
PROS
Sunrooms allow lots of natural light.
Because sunrooms are surrounded by glass panels, they admit abundant natural light that can illuminate many areas of your home. This not only makes your living space feel bright and cheerful; it also helps cut down on your energy consumption by reducing your reliance on artificial lighting.
Sunrooms are very useful
A sunroom can be a family room, playroom, TV room, entertainment area, additional dining area, hobby area or an indoor garden. You can use it for pretty much any purpose you can think of.
Sunrooms are cheaper than other additions/remodels.
Unlike basement remodeling projects or garage additions, sunrooms are relatively cheap to add. Of course, the smaller the sunroom is, the more affordable it will be.
CONS
Sunrooms can be expensive
Small sunrooms are cheap, but large sunrooms can be very expensive. Converting a large, unused area of your home into a sunroom, or adding a large, new sunroom to your home can be a significant investment. Don't hesitate to ask a home remodeling contractor for an estimate to give you an idea as just exactly how much.
Sunrooms can compromise your privacy.
Sunrooms are surrounded by glass panels that provide a panoramic view of the outdoors. But it goes both ways, with people outside being able to see inside. You may want to invest in curtains to add privacy to this space.
Sunrooms aren't energy-efficient.
Unless you build a four-season sunroom and also spend enough to insulate it completely, the area may be uncomfortable during particularly hot or cold days.
If you're planning to convert an existing space into a sunroom or want to add a new sunroom to your home, hire a trustworthy contractor with experience in this area like Northside Construction Services. We also offer professional We also offer home painting services. Just give us a call at (678) 233-2400 to get started. We serve clients in Evans, Augusta and the surrounding GA communities.