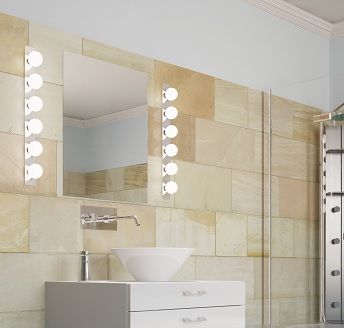 A dark or dim bathroom is not only unappealing, it can also be unsafe. That's why one of the most important changes can make when doing an Augusta, GA bathroom remodel project is to update the lighting.
Modern bathroom lighting fixtures are very advanced and offer the benefit of improved illumination with energy savings.
For functional purposes, a light above or to the sides of the vanity mirror is essential. These lights illuminate the face without casting dark shadows. Traditionally these are a two- or three-light fixture above the mirror, or individual lights to either side. For larger mirrors a strip of lights is beneficial.
Modern bathrooms also take advantage of advances such as track lighting, LED lighting and interior lighting for a shower enclosure.
If your bathroom ceiling height allows, a ceiling fixture with built-in exhaust fan is a wise investment. You'll get the benefit of full illumination over the entire room, plus the necessary ventilation to keep moisture down to help prevent the growth of mold and mildew. However, a ceiling light does not provide adequate lighting for close up work at the mirror, so additional vanity lights are required.
Trust the Professional Augusta, GA Bathroom Remodelers of Northside Construction Services, Inc.
For help in selecting the right fixtures for your needs turn to the Augusta, GA bathroom remodeling experts at Northside Construction Services, Inc.. Our designers are familiar with the latest styles, models and features from the nation's top bathroom manufacturers.
Get a Free Consultation and Estimate
There's no reason to put up with a bathroom that is small, cramped and uncomfortable. Call Northside Construction Services, Inc. today at (404) 392-5858 for a FREE in-home consultation and estimate for your Augusta, GA bathroom remodeling project. Or simply fill out our online request form and we'll get right back to you!