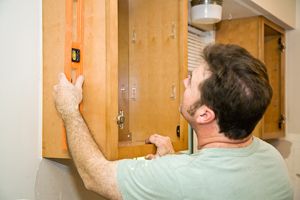 Your kitchen is the room where a good portion of your home's value comes from. The primary infrastructure of this space is your cabinets. Far more than just being the place where you store your dishes, your cabinets should add just as much value as the other features of your kitchen. Off-the-shelf offerings from big-box retailers simply won't cut it if you're looking to get the most out of a cabinet replacement project. Your kitchen deserves the finest custom cabinetry on the market.
Gone are the days when contractors were only involved in your cabinet installation. These days, we offer much more than the experience and expertise needed to hang your cabinets; we also offer a trained designer's eye when it comes to choosing the right style and design of cabinet that best complements your kitchen.
Choosing the Perfect Cabinets
When selecting your cabinet's design, there are many different elements for you to consider. Fortunately, we're here to assist you to ensure that you cover every aspect. Here's how the selection process typically goes:
Choose a Style: Your style of cabinets should complement that of your kitchen, be it Traditional, European, Country, or Contemporary. That said, you shouldn't be afraid to take risks. Consider such design enhancements as contrasting kitchen island cabinets or beveled glass doors.
Choose a Material: We offer an extensive selection of woods for you to choose from, including rustic Knotty Alder, Lyptus, Maple, and Cherry. If you're going with a more modern design, painted cabinets are also a good option to consider.
Choose a Design: The design is what really helps blend your cabinets in with the rest of your decor. Thus, think about incorporating details such as Apothecary drawers, open display areas, and furniture-like details that matches that of other pieces in your home.
Trust Us with Your Cabinets
Not all cabinet companies are created equal. You'll quickly find that what some try to pass off as custom cabinets lack the care and attention to detail needed to truly deserve such a title. Leave your cabinet design and replacement to us. We'll help you to put a signature stamp on your kitchen by calling us at (404) 301-5485 or filling out the online form.