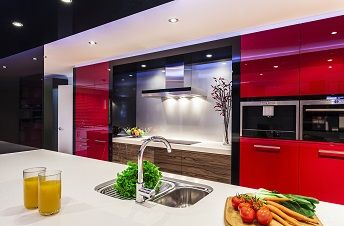 Because the kitchen serves so many purposes in most homes, the design and layout of your remodeled kitchen is critical. Style and decor must blend with practical functionality to deliver a truly effective kitchen space.
Northside Construction Services, Inc. has an experienced kitchen designers who are ready to work with you to convert the dream you have for your new kitchen into a beautiful, functional reality. We start by evaluating your kitchen usage, everything from how often meals are prepared, who prepares them, the size of your family, how often you entertain – any item that may affect how your kitchen will function.
Then we develop a computer-aided design that shows your "new" kitchen layout, with appliances, cabinets, flooring, lighting – all in place just as they will appear in the finished room. This gives the opportunity to "tour" your kitchen before we even begin construction, making adjustments and changes up front.
Northside Construction Services, Inc.'s expert project management and kitchen installation teams then take the design and bring it to fruition, delivering a fully functioning, stylish and convenient kitchen you'll enjoy for years to come.
Trust the Professional Augusta, GA Kitchen Remodelers of Northside Construction Services, Inc.
For complete Augusta, GA kitchen design services turn to the kitchen experts at Northside Construction Services, Inc.. We can create the kitchen of your dreams, efficiently and affordably.
Get a Free Consultation and Estimate
There's no reason to put up with a kitchen that is dated, crowded and difficult to navigate. Call Northside Construction Services, Inc. today at (404) 392-5858 for a FREE in-home consultation and estimate for your Augusta, GA kitchen addition project. Or simply fill out our online request form and we'll get right back to you!