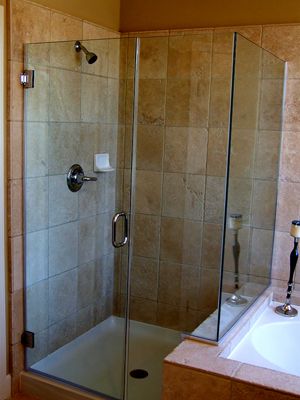 A warm, relaxing shower can be more enjoyable than ever when your Augusta, GA bathroom remodel includes a new shower from Northside Construction Services, Inc.. Today's showers are a far cry from the simple overhead sprays of the past.
Many new bathrooms feature a stand-alone shower enclosure, separate from the bathtub. In many cases this is a prefabricated unit of rugged, waterproof fiberglass-reinforced acrylic, and can feature built-in shelving or even seating.
If you have the space and budget, a custom-built shower enclosure is a big step up. Custom-built shower stalls can be created using any number of materials, including ceramic tiles, stone, marble and granite. Multiple showerheads, including full surround shower, make for a more relaxing experience.
Even if space limitations require that your shower be in combination with your tub, modern showerheads offer a wide range of options that can make the shower experience truly luxurious. Choose from multiple pressure options, handheld (also with various pressure options), and even or overhead "rainfall" showerheads.
Bathtubs, too, have come a long way. A deep soaking tub is a magnificent option, as is a tub equipped with spa jets.
Trust the Augusta, GA Professional Bathroom Remodelers of Northside Construction Services, Inc.
For installation of a luxurious new shower or tub enclosure in your bathroom turn to the Augusta, GA bathroom remodeling experts at Northside Construction Services, Inc.. We have experience in the installation of custom-built or prefabricated shower stalls, along with traditional and modern soaking tubs.
Get a Free Consultation and Estimate
There's no reason to put up with a bathroom that is small, cramped and uncomfortable. Call Northside Construction Services, Inc. today at (404) 392-5858 for a FREE in-home consultation and estimate for your Augusta, GA bathroom remodeling project. Or simply fill out our online request form and we'll get right back to you!