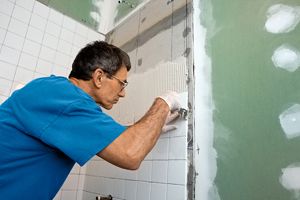 The bathroom may be one of the smallest rooms in your home, but it plays a large part of everyday life. If your bathroom is tired, drab or too small, remodeling can completely transform it into a warm and welcoming space.
Northside Construction Services, Inc. is the Augusta, GA bathroom remodeling contractor with the experience you need to get the bathroom of your dreams, at a price you can afford.
Here are five great reasons to have Northside Construction Services, Inc. remodel your home's bathroom.
You need more space. The number one complaint about bathrooms is lack of space. Small, cramped bathrooms are no fun for any member of the family. The bathroom designers at Northside Construction Services, Inc. can help get the most out of the space available.
You need to upgrade fixtures. Things wear out. Maybe your tub is leaking; or the vanity is cracked and chipped. Or you floors are worn. Plumbing, lighting, tubs, showers, flooring – all have enjoyed great advances in the years since your bathroom was first built. You can revitalize the look of the entire room with changes to new products.
You need more light. Everybody needs to see, but older bathroom light fixtures are limited. Modern lighting fixtures and new lighting design can provide more plentiful light, while reducing electricity usage. Better lighting also make any bathroom safer.
You need more storage. Towels, personal items, linens. Where will you put them all? A clever bathroom design incorporate storage areas that provide plenty of space without intruding on the function of the bathroom.
You want to enhance the value of your home. The condition and layout of the bathroom can play a significant part in the value of a home. Outdated or shabby bathrooms can bring down the value of a home and turn potential buyers away.
Do any of these reasons apply to your bathroom? Do you have your own special requests and needs? Northside Construction Services, Inc. is ready to help!
Get a Free Consultation and Estimate
There's no reason to put up with a bathroom that is small, cramped and uncomfortable. Call Northside Construction Services, Inc. today at (404) 392-5858 for a FREE in-home consultation and estimate for your Augusta, GA bathroom remodeling project. Or simply fill out our online request form and we'll get right back to you!