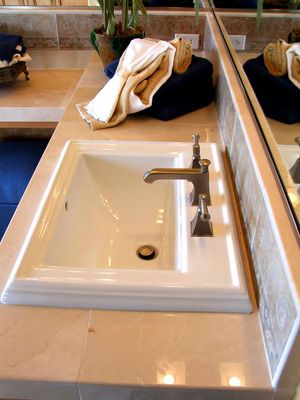 The most important "work" in a bathroom often takes place at the bathroom vanity. An ideal vanity provides a good balance of function, storage space and attractive design. Northside Construction Services, Inc. can help design and install a beautiful, functional vanity for your Alpharetta bathroom design.
When choosing a vanity style, the first consideration is how many people will be using the bathroom. If just one person will be using the room, a single sink vanity will allow for plenty of extra counter space for storage and function. A narrow vanity is also advisable for a smaller bathroom.
But if two or more people will be sharing the bathroom, and space is available, a double sink vanity is ideal. A double vanity provides counter and storage space for both users, as well as storage space under the counter.
An important choice when designing a vanity is the material used for the top counter. Traditional Formica or tile tops have given way to choices such as granite, marble and even polished concrete. An upgraded vanity top enhances the bathroom's look and value.
Yet another popular option today is a pedestal vanity. This gives an elegant look and helps to open up a smaller bathroom.
Trust the Professional Alpharetta Bathroom Remodelers of Northside Construction Services, Inc.
For help in designing an attractive and functional vanity for your bathroom turn to the Alpharetta bathroom remodeling experts at Northside Construction Services, Inc.. Our designers can develop a vanity that works for any size bathroom.
Get a Free Consultation and Estimate
There's no reason to put up with a bathroom that is small, cramped and uncomfortable. Call Northside Construction Services, Inc. today at (404) 392-5858 for a FREE in-home consultation and estimate for your Alpharetta bathroom remodeling project. Or simply fill out our on-line request form and we'll get right back to you!