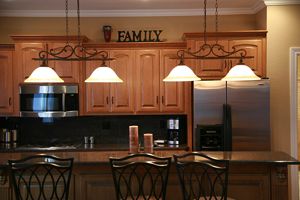 Because today's kitchen serves so many functions, how the room is illuminated is more important than ever. Kitchen lighting must be flexible enough to light your way during meal preparation, but also provide warm light for family meals, late night snacks and the many other activities that take place in your Augusta, GA kitchen.
That's why one of the most important changes Northside Construction Services, Inc. can make when doing a Augusta, GA kitchen remodel project is to update the lighting. We can create a multi-layered lighting system that combines practical illumination with ambiance.
Among the factors we consider when designing a lighting package for your Augusta, GA kitchen remodel are:
Kitchen Size – Both in terms of the size of the lighting fixtures and the illumination we provide, we adjust to make the light fit the room size. For smaller kitchens, smaller pendant lights or recessed pot lights can provide the necessary light without taking up much space. Larger kitchens can accommodate a central, ceiling-mounted fixture.
Activity Areas – We want to cast light on those areas you will use most often. This includes food preparation surfaces, the sink, the stovetop/oven area, counter space dedicated to dining, and any other work areas such as a kitchen desk. We also recommend dimmer switches to help change the mood of the kitchen for various activities and times of day.
Walls and Surfaces – The lighting fixtures and tone of illumination must blend with the color scheme of the walls and countertops. Modern colors and stainless steel appliances work well with sleeker lighting fixtures, while more traditional lights are appropriate for country-style kitchens.
Environment – Wherever possible we include energy-efficient compact fluorescent or LED lighting to reduce electrical use. This helps the environment and saves you money.
Trust the Professional Augusta, GA Kitchen Remodelers of Northside Construction Services, Inc.
For help in choosing the best Augusta, GA kitchen cabinets for your home turn to the kitchen experts at Northside Construction Services, Inc..
Get a Free Consultation and Estimate
There's no reason to put up with a kitchen that is dated, crowded and difficult to navigate. Call Northside Construction Services, Inc. today at (404) 392-5858 for a FREE in-home consultation and estimate for your Augusta, GA kitchen addition project. Or simply fill out our online request form and we'll get right back to you!