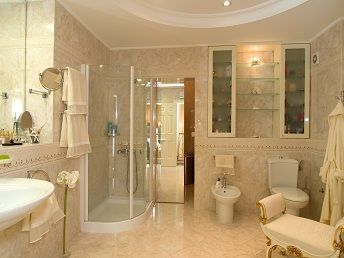 For many homeowners, the bathroom acts as their very own personal oasis where their troubles melt away as they luxuriate in a bath or wash away the day in the shower. If your bathroom is looking more like a prison camp than a small slice of heaven, it might be time for bathroom remodeling in Evans, GA, or any home in the northern Augusta suburbs. Northside Construction Service specializes in remodeling projects that can turn your dreams into a reality.
Give Your Bathroom a Well-Deserved Makeover
If you've been considering home remodeling in Evans, GA, or the surrounding northern Augusta suburbs, the bathroom is an excellent place to start. The bathroom is one of the most popular types of home renovation and remodeling projects and with good reason. We specialize in several different types of bathroom remodeling projects, including:
We specialize in remodels of all types and styles, so don't hesitate to let us know what you've got in mind for your new bathroom. We will work with you to exceed your every expectation while sticking to your budget.
We're Here to Offer Our Professional Expertise
You may have no idea where to get started with your bathroom remodel. That's no problem. We can show you some of the most recent trends as well as some of the work we've done in the past just to give your creativity a jumpstart. No matter how much assistance you need, we are here to help.
Schedule a Consultation Today
To get started on designing your new bathroom, new kitchen or even if you are interested in basement finishing in Evans, GA, or the surrounding northern Augusta area, call (404) 392-5858 or fill out a request quote form.