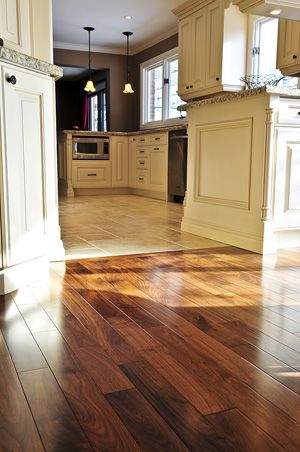 Your kitchen floor must serve three functions: comfort, appearance and durability. Northside Construction Services, Inc. offers several excellent choices in kitchen flooring that meet all three criteria.
You want your kitchen floor to be comfortable because you are likely to spend plenty of time in the kitchen, preparing meals, cleaning, and even enjoying the company of family and friends. You want the floor to look good, especially in today's open kitchen designs where floor space is increased. You want a durable material that can handle spills, heavy foot traffic and frequent cleanings.
Among the Augusta, GA kitchen flooring materials we recommend are:
Ceramic Tile – Ceramic is a very popular kitchen choice, as it attractive, durable and easy to clean. Ceramic tiles are available in a wide array of sizes, styles and colors to match any decor.
Laminate – New "engineered wood" floors are an inexpensive flooring option for the kitchen. They are more durable and easier to clean than real wood, but can sometimes be damaged by moisture.
Wood – Traditional wood floors are warm and inviting, and very comfortable. But in the kitchen environment care must be taken to seal the wood properly against spills and moisture.
Vinyl – For budget-conscious homeowners, vinyl is a good option. Vinyl rolls or tiles come in a very wide variety of styles and colors, and are easy to install. However, they do not wear as well as ceramic tiles or wood.
Renewable Woods – Bamboo and cork floors have long been used in kitchen construction overseas, and are growing in use in North America. Cork is especially comfortable to walk on. Both bamboo and cork are renewable resources.
Concrete – Pour and polished concrete floors are very durable, but not as comfortable as other flooring options.
Trust the Professional Augusta, GA Kitchen Remodelers of Northside Construction Services, Inc.
For help in choosing the best Augusta, GA kitchen appliances for your home turn to the kitchen experts at Northside Construction Services, Inc..
Get a Free Consultation and Estimate
There's no reason to put up with a kitchen that is dated, crowded and difficult to navigate. Call Northside Construction Services, Inc. today at (404) 392-5858 for a FREE in-home consultation and estimate for your Augusta, GA kitchen addition project. Or simply fill out our online request form and we'll get right back to you!