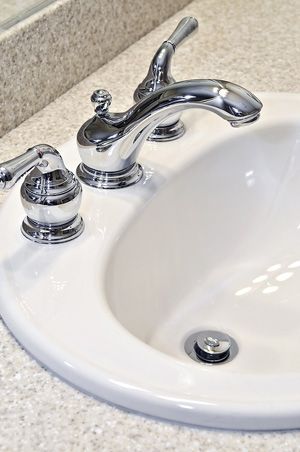 Among the most significant changes you'll make when remodeling your Augusta, GA bathroom is the fixtures. This includes tub, shower, faucets, sink, toilet and mirrors. Today these items are available in an amazing variety of styles, colors and materials. Updating your fixtures is a key component in creating a brand new look for your bathroom.
The bathtub and shower are important parts of any bathroom. By installing a new tub, shower or tub & shower combination, you can change the look of the entire room and turn a simple bath into a relaxing experience. New choices range from retro-look claw foot tubs, new updated colors, sleek tub surrounds and showers that include multiple showerheads or even "rain" showers.
The bathroom sink is a center of activity. Choose a stylish pedestal sink to make your bathroom look larger, or a granite or marble vanity top for elegance. "Bowl" type sinks that sit on top of the vanity are increasingly popular.
To fill your new tub or sink, choose from a wide array of faucets. These can range from traditional to antique to modern, depending on your overall decor. Be sure to match the faucets on your sink to your tub and showerhead for a complete overall look.
Don't neglect the toilet. A new color of style of toilet can enhance the look of the bathroom. A new high-flow toilet can also reduce water consumption.
Trust the Professional Augusta, GA Bathroom Remodelers of Northside Construction Services, Inc.
For help in selecting the right fixtures for your needs turn to the Augusta, GA bathroom remodeling experts at Northside Construction Services, Inc.. Our designers are familiar with the latest styles, models and features from the nation's top bathroom manufacturers.
Get a Free Consultation and Estimate
There's no reason to put up with a bathroom that is small, cramped and uncomfortable. Call Northside Construction Services, Inc. today at (404) 392-5858 for a FREE in-home consultation and estimate for your Augusta, GA bathroom remodeling project. Or simply fill out our online request form and we'll get right back to you!