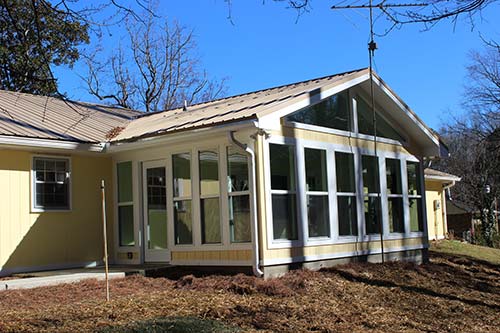 For those who just love to have family and friends over, who wouldn't want to add some extra space to accommodate everyone? For many, that means a new deck or patio. Yet for those who live in areas where the heat in the summer or the cold in the winter tends to drive everyone indoors, a deck may not be the best option. Not to worry; we can provide you with an excellent new entertaining space with a sunroom addition.
Every Style for Every Budget
As a certified sunroom contractor, we can help you add a comfortable and inviting entertaining space to your home. We offer a number of different sunroom design options that can easily fit into any budget. Among the many sunroom styles that we offer are:
Studio sunrooms
Gable sunrooms
Architectural sunrooms
Each of these designs allows you to add livable space to your home without having to deal with the expenses associated with a typical home addition. Plus, you get the added benefit of enjoying both the comforts of the indoors with the unique feeling of the outdoors. If you're wanting to enjoy our sunroom builder services yet don't think you have the budget to handle a complete new construction project, don't sweat it; we can add an enclosure to your existing deck or patio, helping you to take better advantage of that space.
Stop By Our Sunroom Showroom
If you're new to sunrooms, we understand that it might be difficult for you to visualize exactly how one of these unique rooms will look when attached to your home. A simple stroll through our sunroom showroom will help you see these additions at full scale, allowing you to get an early start on visualizing just how much excitement this new addition will introduce into your life.
Let us help to improve both your indoor and outdoor living space with a quality custom sunroom. You'll be amazed at just how much such an addition can add in both monetary value to your home as well as the chance to create wonderful new memories with friends and family. We're excited by the prospect of working with you. A new and improved outdoor experience is just a simple phone call away at (404) 301-5485 or fill out a request quote form.