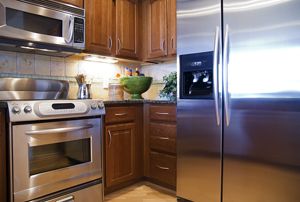 The most functional parts of any kitchen are the appliances. Replacing old, worn and inefficient appliances with modern, energy-efficient and attractive new models is one of the best part of your Augusta, GA kitchen remodel.
Northside Construction Services, Inc. can guide the selection process so that your new appliances fit into the overall design of your newly remodeled kitchen. In fact, the appliances themselves become an integral part of our design. They are a long term investment and must be selected for functionality and durability, as well as decor.
Stove/Oven/Range – Perhaps no other appliance offers such a wide variety of options. Your choice depends on personal cooking preferences. The first choice is gas vs. electric, which will depend on your home's utility setup. Options today include warming ovens, separate wall-built ovens, indoor grilles, cool-top cooktops, and a wide array of colors and finishes, including stainless steel or more traditional colors.
Microwave – Once a rarity, a microwave is now almost a necessity. Nothing is more convenient for heating or even cooking an entire meal. The most significant choice in microwaves is the size. Are you a family on the go who needs one large enough to prepare entire meals? Or will a more compact model do?
Refrigerator – Today's refrigerators come in a wide range of sizes and styles. Among the more popular models are the French door, also known as side-by-side, and refrigerators with bottom loading freezer drawers. Most are available with built-in icemakers and chilled water dispenser, but these may require additional plumbing.
Dishwasher – Choosing the right size dishwasher is essential. You want one large enough to accommodate all the plates, silverware, glassware and prep dishes from an entire meal. Modern dishwashers are much more energy-efficient than older models.
Compactor – A trash compactor can help reduce solid waste and make trash day simpler and easier. A compactor can also help with your home recycling efforts.
Whether you seek a sleek, modern look or more traditional finishes, appliances that are functional, attractive and cost effective are available to fit any kitchen design or budget.
Trust the Professional Augusta, GA Kitchen Remodelers of Northside Construction Services, Inc.
For help in choosing the best Augusta, GA kitchen appliances for your home turn to the kitchen experts at Northside Construction Services, Inc..
Get a Free Consultation and Estimate
There's no reason to put up with a kitchen that is dated, crowded and difficult to navigate. Call Northside Construction Services, Inc. today at (404) 392-5858 for a FREE in-home consultation and estimate for your Augusta, GA kitchen addition project. Or simply fill out our online request form and we'll get right back to you!