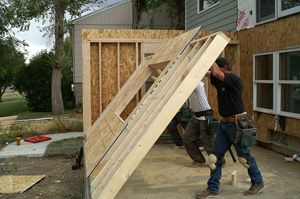 One of the most important decisions you will make in the design of your new kitchen is what kind of countertop you would like. The array of styles and materials can be overwhelming! Luckily the experts of can help you make the best choice for your kitchen, based on your lifestyle, decor, budget and personal preferences.
Your countertop decision should not be driven by the latest trend, an article you read in a home decorating magazine, or even the recommendation of a friend. Your countertop is going to be the place where you do much of your work in your new kitchen, so the selection of countertop material, style and color is critical.
Here are the most popular styles of kitchen countertops available from for your new kitchen.
Granite – One of the most popular materials for countertops, granite comes in a wide array of colors, including black, white, green, beige and pink. Because it is a natural material no two granite countertops are the same. Granite can be finished in a smooth glassy finish, or a textured finish. Granite counters should be sealed upon installation, and resealed periodically. Granite is not an inexpensive option, but delivers years and years of beauty and function.
Corian – Solid surface countertops, commonly referred to by the brand name of the most popular style, Corian, offer a dazzling decor option. Available in a virtually limitless color palette, Corian counters resist stains and scratches can be easily buffed out. These countertops are ideal for undermount sinks, and a seamless backsplash can be built-in. Costs vary with color, size and layout.
Wood – Natural woods, including butcher block, are still in demand, particularly for Colonial style kitchens. Wood counters adds great warmth to a new kitchen. Wood is easy to clean and keep looking fresh and new, but should be sealed and oiled periodically.
Laminate – The most affordable countertop material is laminate. Available in thousands of colors and patterns, laminate can even be styled to resemble granite. Easy to clean and maintain.
Engineered Stone – Easily mistaken for natural stone, this man-made material comes in a wide variety of shades and styles. The most recognizable brand name in engineered stone countertops is Silestone. Easier to maintain than granite, engineered stone is similar in price.
Tile – Another traditional counter material is tile. Glass or ceramic tiles can add a dramatic look to any kitchen, and provide a durable work surface. Tile is also a very popular choice for backsplashes.
In addition to choosing the best material for your needs, can assist in designing your countertops as well. We'll help you select from square or beveled edge, or a "bull nose" or radius corner; along with the decision on backsplash and sink position.
Whether you seek the modern look of granite or more traditional materials, will help you design kitchen countertops that add beauty and functionality to your kitchen.
Trust the Professional Kitchen Remodelers of
For help in choosing the best kitchen countertops for your home turn to the kitchen experts at .
Get a Free Consultation and Estimate
There's no reason to put up with a kitchen that is dated, crowded and difficult to navigate. Call today at for a FREE in-home consultation and estimate for your kitchen addition project. Or simply fill out our on-line request form and we'll get right back to you!